Rebecca Wilden, Assistant Director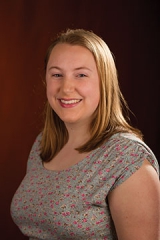 Rebecca has wanted to be a librarian from a young age because she loved reading and being able to borrow as many books as she could carry or pull in her wagon! Now, she loves libraries because they provide information access to everyone, regardless of background or economic situation. She also loves the small town feel of Bucyrus!
Ask me about…
Using BPL's new website and online catalog, using research databases, finding elusive information, Juvenile and YA fiction, historical fiction, Harry Potter, American Girl, Pokemon Go, music history
I'm interested in…
Music, playing the trumpet, community theatre and band, traveling, Netflix
Rebecca is a notary public.
Email: rwilden@bucyruslibrary.org
Phone: 419-562-7327, ext. 106