Employment Opportunities
We have an opening for a part-time Circulation Desk Assistant. Please stop by the library for an application packet. Click here for more information.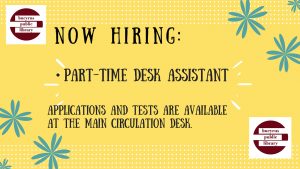 Applicants may need to take a filing test as part of the application process.  We have provided a link to a website that allows you to review your knowledge of the Dewey Decimal System and how it is used in libraries:  "Order in the Library" Thank you to Mrs. Lodge for allowing us to link to her game!
We also encourage job seekers to visit Community Opportunity. Job openings for the library will be listed there as they become available.
To inquire about positions listed here, please call us at: 419-562-7327.