About Bucyrus Public Library

Library Mission Statement
"Inform, educate, and entertain the citizens of Bucyrus, Crawford County, and through the Ohio Public Library Information Network, the general citizenry of Ohio."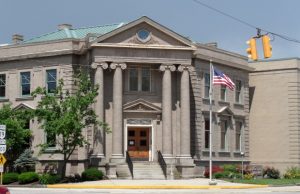 Our Hours:
Monday through Thursday: 10am – 8pm
Friday: 10am – 6pm
Saturday: 10am – 2pm
Sunday: Closed
Founded in 1906, the Bucyrus Public Library is the principal library in the Bucyrus Library Consortium, which includes all of the school libraries in Colonel Crawford, Fairway, and Wynford school districts. BPL is an original Carnegie library building, with additions completed in 1988 and 2008.
You are welcome to visit us! Library cards are available to any Ohio citizen age 3 and older. Just bring a photo ID and proof of your current address (such as a driver's license, pay stub, or piece of mail you have received). Parents are responsible for children's library cards.